Loyalty and Rewards
With Point of Success' legacy loyalty/rewards feature your customers earn points for their purchases and redeem points for free menu items. You define the points earned for each eligible menu item purchased and the points required to get a menu item at no charge.
You decide how your loyalty program works. Here are some examples:
A coffee shop can offer one point for each cup purchased. After ten cups the guest can receive one free coffee. In this example one point is earned for each purchase and 10 points can be redeemed for one free cup of coffee
A restaurant could offer one point for each dollar spent on entrees, then offer a free appetizer or dessert when a guest has accumulated 100 points. Point of Success can automatically assign one point per dollar based on entree prices.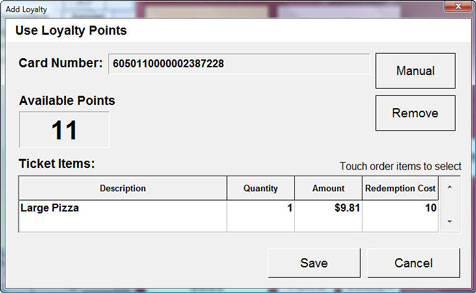 Details
In Point of Success version 3.11 and earlier loyalty required credit card processing through Vantiv Integrated Payments
In Point of Success version 3.6 and above points are no longer tracked through Vantiv as the loyalty system processing service was discontinued. Loyalty is now offered for a single location,  is a standard feature in all versions of Point of Success, and is available at no additional cost.