Pizza POS Software Doesn't Need to be Expensive!
Experienced pizzeria owners wouldn't think of operating a restaurant without pizza POS software. Point of Success pizza software offers the kind of specialized POS software features that can help a pizzeria be far more successful:
Our Pizza POS Software has specialized ordering features that make it easy to order any pizza in the restaurant on one screen. Design your menu to mix specialty pizzas, build-your-own pizzas, select a crust type, sauce, cheese, and add in special preparation instructions.
With our Pizza POS Software you can create and maintain a customer database to eliminate asking for an address for each order and to run more effective marketing, customer retention and sales improvement campaigns.
Our Pizza POS Software can manage delivery operations – dispatch drivers, track orders, provide timely service and track money in driver banks.
Specialized Pizza Ordering
Enter, revise, change and customize a customer's pizza order all in one window!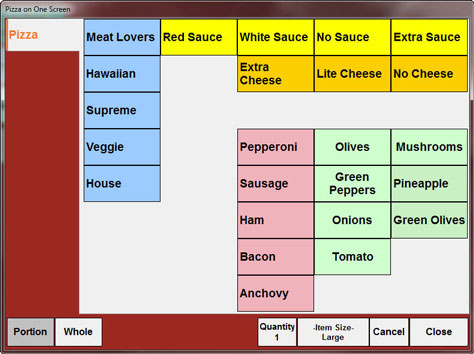 Does your customer want to combine a half specialty pizza with custom selected toppings? A touch or click of the mouse and it's done. You can select pizza crust, sauce and preparation details by just touching the screen. Change the size of the pizza on the fly? Done. Ordering features designed for a pizzeria make your pizza pos software smarter and let you serve guests more quickly. This translates into better customer service, more repeat business and more referral business.
Other pizza pos software may offer similar features but at many times the price of Point of Success.
Pizza POS Software Allows You to Know Your Customers Better
Pizzerias have a huge business advantage over other types of restaurants because in a delivery operation you get customer details to help you improve sales!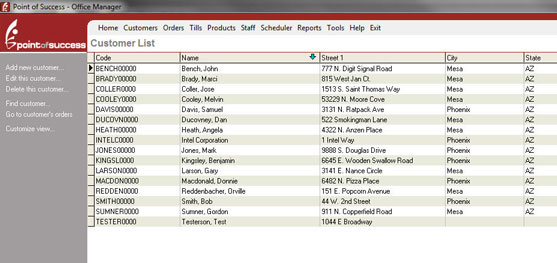 Point of Success pizza pos software stores customer information to help every part of a pizzeria's business:
Your pizza pos software can retain addresses to eliminate time-consuming steps on the telephone.
Your pizza pos software can store valuable information to help sales and marketing campaigns. This information is collected for every order.
Track Deliveries
Driver information and order details are available at the touch of a button.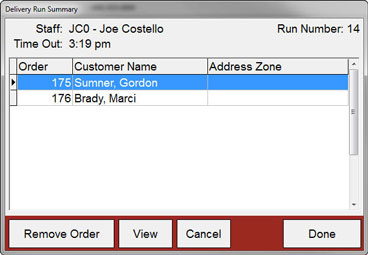 Departure time, customer information and order details are all available right here.
Protect Cash with Your Pizza POS Software
When every order, every item and every payment is accounted for, and losses are prevented. These are required pizza pos functions and Point of Success does them well.

Delivery drivers enter payments when returning from delivery runs. Every dime in the driver bank is identified. Closing out a driver's shift is as easy as matching the funds in the bank to the tracking report.
---
Point of Success Premium Pizza POS Software is designed with pizzerias in mind. You can Improve operations, lower your costs, improve customer service (with all the benefits this provides) and this business-building technology was never more affordable!
Pizza POS Software – Made Affordable by Point of Success!
Download a demo by clicking on this link – Pizza POS Software Demo