Point of Success Video Security System
See point of sale transaction information in security video recordings
Items added to an order, items removed from an order, totals, tax and more are all shown in white text overlaid on a video security camera image.
PostMark Video Overlay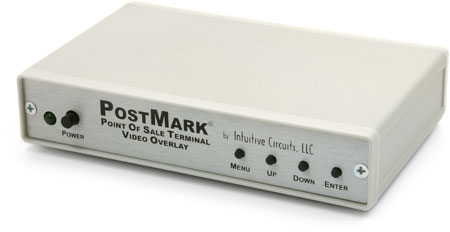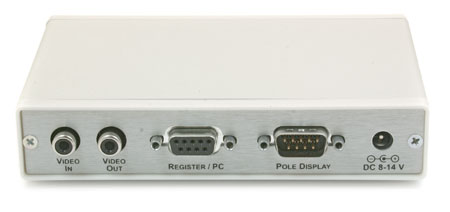 At the core of this security enhancement is the PostMark Video Overlay box. This technology works with most video surveillance systems and has been adapted specifically for use with Point of Success POS software.
Receives order information from a Point of Success workstation through a serial port configured for use with a pole display
Security camera video enters the box through a composite video jack
Order information is overlaid on the camera video
Combined image exits the box through a composite video jack
Connect this video signal to your DVR or other compatible video equipment
Each order item is displayed on one line of text up to 18 characters in length
Up to 11 lines of order information can be displayed simultaneously
If the workstation also uses a pole display, a pass-through serial port provides data to drive the pole display.
Security System Requirements
The Point of Success Video Security System works with surveillance systems meeting these requirements:
Cameras must output a composite video signal
Each Point of Success workstation to be monitored requires a separate PostMark box for video overlay and a serial port on the computer to send transaction information to the box
Your security system controller (usually a DVR) must accept a composite video input
Each video image with overlaid order information can be viewed just like any other camera in the system, including on a dedicated video display in the restaurant and remotely monitored over the internet if your security system supports it
One interface box and one security camera are required for each order entry workstation to be monitored.