Improve Your Efficiency and Your Business
A point of sale system isn't just a fancy cash register! Point of Success also helps improve your business.
Digital Scale Integration for Weighed Items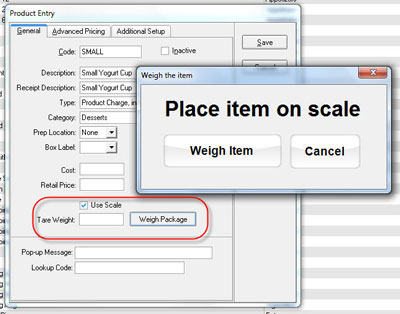 Connect a supported electronic scale to a Point of Success workstation to weigh menu items for checkout. Supports package weighing in product setup for entry of tare weight.
Kitchen Communication
Prep ticket notifications are printed in the kitchen when items are changed or removed from an order and when an order is deleted.
Kitchen Monitor Improvements 
These great new features have been added to the Kitchen Monitor:
Bump individual items from an order
Adjustable font size to make the display readable from across the room
Sort orders by time sent or time promised
Orders can be prioritized by service type
Fully compatible with the new coursing feature
Every Employee Has The Information They Need
Order entry staff, servers, kitchen staff, delivery drivers, and managers all have the information they need to make their job easier, improve efficiency and satisfy customers!
Store customer telephone number, address and delivery instructions
Instantly see the ingredients and preparation details for any menu item
Ask for required information like side item selections, crust type, toppings, condiments and preparation instructions
Check an order to be certain that it contains items that qualify for a coupon offer or discount
Tender payments and calculate change due
Track promised time and ensure timely delivery dispatch
Provide instant production, order status and financial information to a restaurant manager on the Manager's Console
Plus many more features too numerous to mention!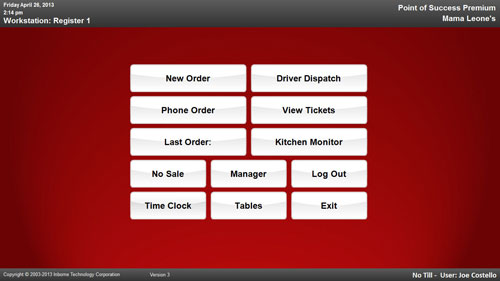 Point of Success Order Entry screens are easy to navigate with a mouse or touch screen.
Information Flows Everywhere Automatically
Order information progresses automatically from order entry to preparation, table service, delivery dispatch

, payment tender and business reporting.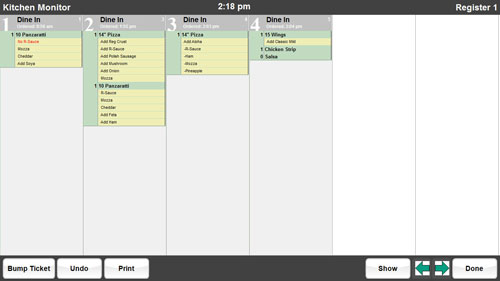 The kitchen monitor screen automatically organizes orders in the sequence received. Color flags point out orders are are approaching or are past the promised completion time. No special hardware other than a standard computer is required.

Save Time on Every Order
Rapidly enter orders for table service, counter service/quick service, delivery

or carry-out. Address, delivery and order history information is automatically retained for every customer

, speeding service and minimizing payroll costs.
Track Every Order from Start to Finish
Easily check the status and progress of any order in the system.
Time entered
Order details
Promised time
Preparation instructions
Discount and coupon details
Payment information
Delivery dispatch time and driver assignment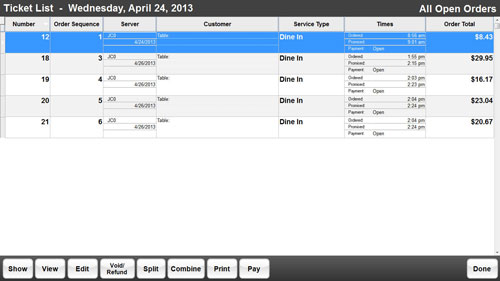 Every open ticket in the system (for any type of order including counter service, table service and delivery) is displayed in the Ticket List. Select a ticket to add items to an order, to enter a discount, to tender a payment or print a customer receipt.
Detailed Customer Order History
Point of Success stores information on every order a customer has ever placed

. Point of Success can easily repeat an order for a frequent customer. Calculating the lifetime value of a customer is easy and automatic.
Keep Customers Happy
Point of Success gives restaurant managers the information they need to build and maintain relationships with their customers.

Indicates features available only in Point of Success Premium.