Online Ordering Software for Your Restaurant
Online Ordering Has Never Been Easier or More Affordable!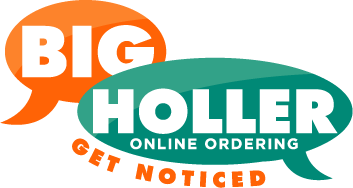 Point of Success and BigHoller, a leader in online ordering, are now offering easy, affordable online ordering for your restaurant! Customers order from your BigHoller web menu, then the order is transmitted over the Internet to your restaurant and is brought into your Point of Success POS system.
Online orders work just like orders entered by your staff for production, tracking, delivery and business reporting. You've read the record-breaking online ordering sales announcements from major restaurant chains – Now you can use the same technology to help improve your business!
Online Ordering Features
The following are Online Ordering features available from BigHoller:
Mobile browser ordering that gives an entirely new, mobile-customized ordering experience on your online ordering site.
Delivery zone maps that inform your customer of your stores can offer delivery to their location.
Call Center features than let you consolidate your online orders and telephone orders in one interface. Customers can order through your online ordering menu while your call center agents accept telephone orders. Agents can assign orders to each location to effectively balance your production load.
Your customers can pay for their online order using their Vantiv Integrated Payments gift card or StoreCard.
A new ordering wizard can step your customers through selecting pizza toppings and customizing elements of a combination item.
Unusual addresses like those for hotels, campgrounds and even stadium seats are fully supported.
Tax exemption can be assigned by you to individual customers and by menu item.
Create house accounts for your BigHoller customers and bill them at the end of each month.
More ability for web designers to customize the look of your online ordering implementation has been added.
BigHoller offers a new telephone confirmation service that automatically contacts your restaurant to verify receipt of online orders.
Great Ordering Experience for Mobile
Your ordering site automatically adapts for display on mobile devices:
How Online Ordering Works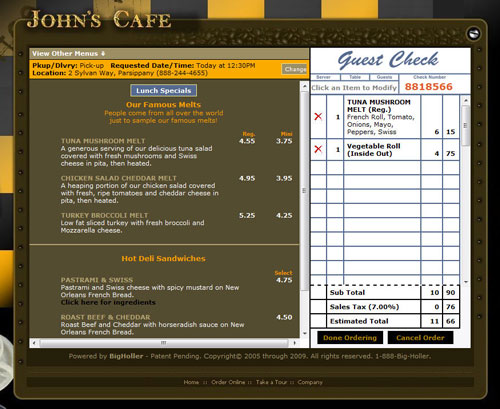 Customers order from your online menu. Each item on the menu can have ingredient options, preparation instructions, and add-on items displayed for easy access. Customers can review every detail of the order to improve accuracy and customer service.
When the order is complete customers enter the information required to identify, prepare and deliver the order. Payment can be required on the website or you can permit customers to pay when the order is picked up or delivered.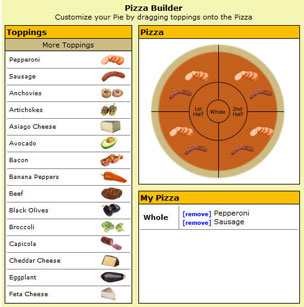 Pizzeria menus can incorporate BigHoller's pizza builder. Just click and drag toppings from the topping list, then drop them on the left half, right half, or in the center for the whole pizza. Crust, sauce, and preparation instructions can also be selected in the pizza builder.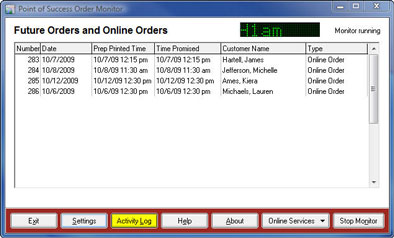 The Point of Success Order Monitor receives orders from BigHoller, holding them until the time you specify to begin preparation.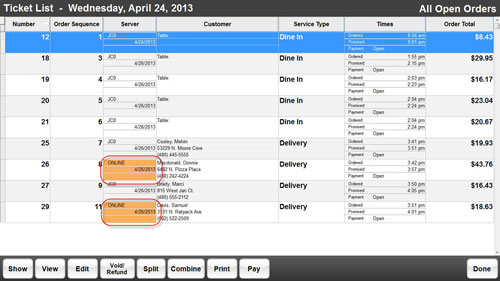 Online orders are specially color flagged to distinguish them from locally entered orders. Each online order follows the same production path as a local order from preparation to pick up or delivery.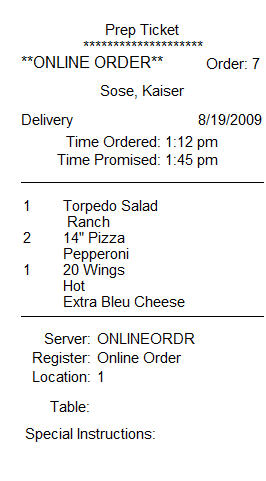 Point of Success prep tickets and kitchen monitor clearly identify online orders.
What You Need for Online Ordering
Point of Success Premium version
Point of Success Online Ordering module
Online ordering service from BigHoller
Always-on Internet connection
Access to a standard, dedicated POP3 email account for order transmission
Point of Success Users Answer Your Questions About Online Ordering
You've heard restaurant owners talk about online ordering. You may have even been asked by your customers if they can order from you over the web. This information may help you decide whether online ordering is worth the investment.
If you're not sure if online ordering is worth the cost to set up and run, read what this pizzeria owner said:
"Before we launched, I had not received requests for online ordering by customers, did not see it as a demand item, and didn't know if we would do enough orders to justify the cost. I have yet to heavily advertise it as we've worked out some kinks and I want to make sure it's perfect before I advertise the snot out of it. The only way you would know we have online ordering is by the small link on our website. We are currently doing 3-5 orders per weekday, and 10-15 orders per weekend online, per store. The nice thing is that we don't have to take their call, mess with them on the phone, it just prints and we make it. The site works very well, and I have had customer upon customer comment on how easy it is to use. I've even had customers say they much prefer our online ordering site over Pizza Hut and Papa John's. I'm a very happy customer of online ordering, both Point of Success and Big Holler."

Ben Nightswander, B. Antonio's Pizza
Will your online ordering site be easy for your customers to use? Read what this pizzeria owner said:
"I am very pleased with the simple customer order entry interface. We have set it up for credit card purchases only and everything works extremely well. All we have to do is have the food ready when they come to pick up which has been paid for already. This saves a bunch of time. Its a great system! Customers enjoy browsing through the menu and taking their time to enter their order. They can also look at their previous orders. I've seen customers placing orders after midnight (at their convenience) for pick up in the afternoon."

Hugh Perera, Perard's Pizza
Will your customers actually use your online ordering site after you set it up? Read what this restaurant owner said:
"66 online orders received for breakfast and lunch today! Answering those additional 66 phone calls had they not been online orders would have been tough."

Adam Siegel, Adam's Subs
More Details
Web orders come directly into your Point of Success POS system
Designed for use only with BigHoller online ordering service
BigHoller creates your web menu as part of their start-up service
Link to your online menu from an existing web site or BigHoller will host a basic site for you
Menus look great and are easy to use
Perfect for restaurants with one or many locations, all types of food, and businesses of all sizes
Track, manage, deliver and report on online orders just like standard orders
Improve average order totals, save labor costs and eliminate errors
Supports multi-language menus, time scheduled menus, and catering menus
Customers can pay online or pay when the order is picked up or delivered
Works with credit card processing from Vantiv Integrated Payments and other companies
Automatically build an email database for use in your marketing program
One flat monthly fee for unlimited orders – no percentages, no overage fees, no surprises
Email notifications are automatically sent to your customer when their order is received at the restaurant, when preparation is started, and when the delivery is dispatched