Restaurant and Bar Table and Guest Management
Use this product with Point of Success restaurant point of sale software to track waiting guests, reservations, and manage the tables in a restaurant.
Table Map
Define your dining area on one screen or assign different rooms or dining areas to separate tabs. Table sizes, shapes and seating capacities are controlled in the table map designer. Use the table map for tasks in Table and Guest Management and Point of Success order entry:
Check table status
Open or close a station or dining area
Visually tie tables to servers and dining areas
Select a table from the table map in Point of Success Order Entry to create or edit a guest order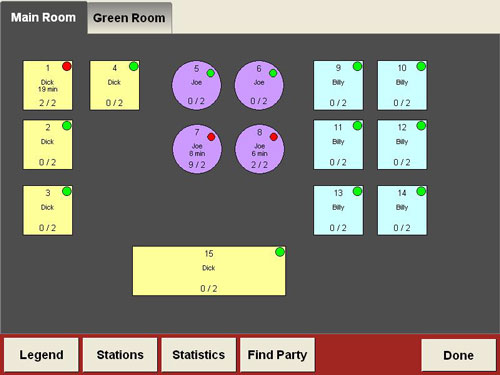 Wait List and Reservations
No more paper wait lists! Enter guests as they arrive, then manage every point of contact with a guest:
Enter guest name, party size, and seating preference
Record estimated wait time
Track waiting guest statistics (total guests waiting, longest wait time, average wait time)
Track reservations for any date in the future. Set your reservation list time interval and the total number of reservations permitted for any point in time.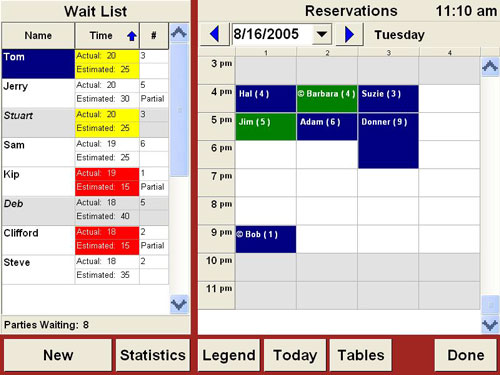 Management Information
The Manager's Console gives a one-screen overview of guest seating, wait list and reservation performance.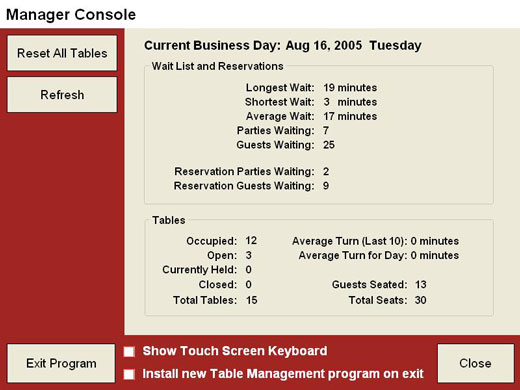 Separate statistics windows are available for the hospitality staff to check statistics for the wait list and dining room without accessing the Manager's Console.
Automatically Make a Table Available
Tables in the Table Map can be automatically made available when all the orders on a table are paid.
More System Details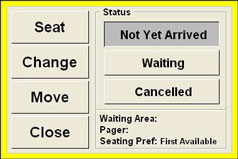 Table and Guest Management is intended for use on a touch screen or with a mouse and keyboard. Touch a guest reservation and this window displays, allowing selection of an action for the guest.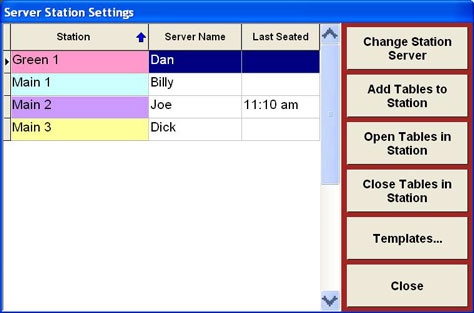 Table and Guest Management allows tables to be assigned to a server station. Open and close stations, change the server for a station, and define different station templates for different days or day parts.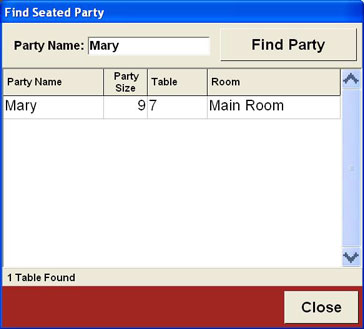 Find a party wherever they are seated in any dining area.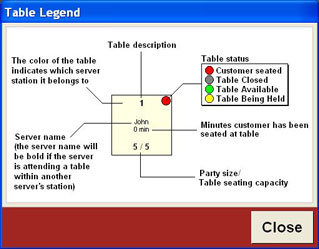 Each table in the table map displays six key points of information. Pop up this Table Legend window at any time to be reminded of the information displayed.