Restaurant Point of Sale Makes an Efficient Restaurant
More Time with Customers, Less Time with Paperwork
Customers are the life of every business. Each minute spent with paperwork and nonproductive activity takes time away from building a restaurant business:
Every manager hates manual calculation of employee hours from time cards. Point of Success' employee time clock does it for you.
Every time an order is entered in Point of Success the system collects information on sales, productivity and financial details. System reports give you the information you need to run an efficient, profitable operation.
The ordering menu and seating diagram can be designed and changed as your restaurant changes, ensuring the fastest operation possible
Employee Time Clock in Your Restaurant Point of Sale System
The Point of Success Employee Timekeeping module can make payroll preparation as easy as printing a report!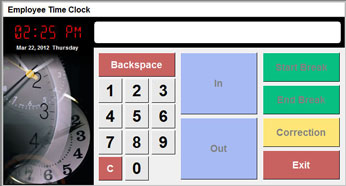 Each employee clocks in and out at the start of work, end of work, for breaks and for meal periods. All hours are tracked, printed and added on the included reports. Employee hours are ready for your payroll service or payroll software.
Restaurant Point of Sale – Complete Business Reporting
Well over 100 standard reports provide information on every aspect of a restaurant's business.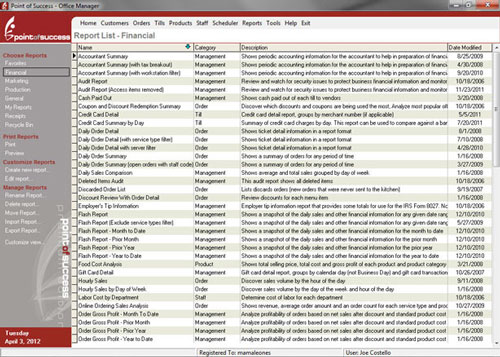 Point of Success restaurant point of sale offers reports in these categories:
Financial – Detailed or summary information about a restaurant's financial performance
Marketing – Discover the most valuable sources of new customers and which special offers are redeemed most often, get email and address lists for mailings, reactivate customers who haven't ordered in a while and more
Production – Reports on the productivity of servers, order takers, drivers and more
Restaurant Point of Sale – Customize the Ordering Menu
Point of Success is designed to be able to be maintained by the people who work in the restaurant!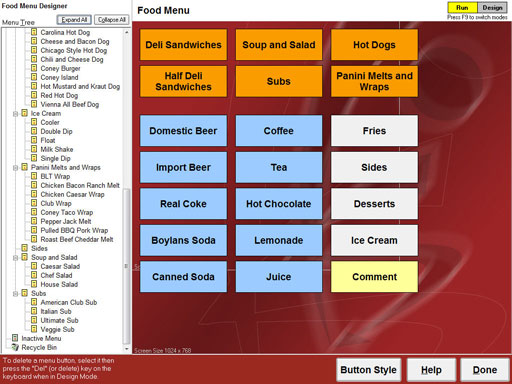 Make menu changes when they are needed – Price changes, new menu items, and rearranging the menu are all easy when you use our free and included training and reference information.
Restaurant Point of Sale for Table Service
Table and Guest Management is an available option for Point of Success that's designed for restaurants that provide table service. The hostess station module handles a wait list, guest reservations and shows which tables are available. After guests are seated, servers can enter and edit orders, print guest checks, accept payment and more by selecting a table from the table map.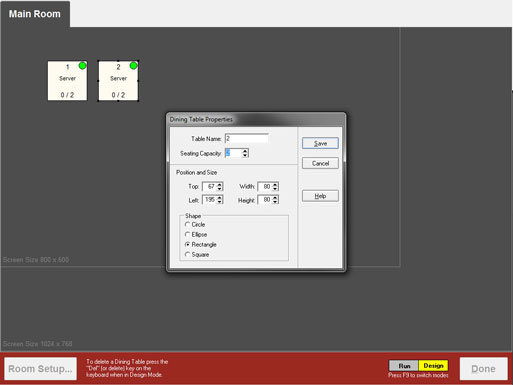 A restaurant's seating areas can be designed all together on one tab or separated by seating areas on multiple tabs in the table map. Wait stations and server assignments are listed for the table map.
---
Point of Success is flexible and designed for all types of food service businesses. Quick service, fast casual, fine dining, bars and pizza restaurants can all use Point of Success restaurant point of sale.
Restaurant Point of Sale from Point of Success
Download our free demo and see Point of Success work for yourself!
Restaurant Point of Sale Demo Download

Indicates features available only in Point of Success Premium.