Process Credit Cards and Gift Cards Inside Point of Success
With Point of Success you can use the credit card processor of your choice. Select the processor that's best for your business – Vantiv Integrated Payments is our recommended processor and many other processors are also supported. Credit card and gift processing are available only in the United States.
No More Terminals!
Credit card sales are easier when your POS system has built-in credit card support. When you process credit cards in Point of Success, every computer on your network can be a credit card terminal. Credit card processing in Point of Success offers these advantages:
Swipe a credit card when the card is present or key the account number for phone orders
Require the last four digits of the credit card number to be keyed to reduce exposure to counterfeit cards
Verify cardholder address and validate card ID numbers to reduce fraudulent transactions and charge-backs
Preauthorize charges, then include tips in a follow-up transaction
Uses safe, encrypted Internet communication
---
Credit Card Data Security, PCI Compliance and PA-DSS Validation
Companies who accept credit card payments must be compliant with all applicable PCI-DSS (Payment Card Industry Data Security Standard) requirements. This includes using validated payment processing software, securing computers and the network where the software is used, and taking other measures to ensure a secure credit card data environment.
Point of Success Version 3.5 and above uses out-of-scope credit card processing technology from Datacap Systems, Inc. NETePay version 5 is recognized as a Validated Payment Application. More information is available on the PCI Security Standards Council web site at https://www.pcisecuritystandards.org/.
Vantiv Integrated Payments (formerly Mercury Payment Systems) specializes in credit card processing integrated in point of sale systems.

Some of Vantiv's benefits include:
Software for processing with Vantiv is included at no charge in Point of Success Standard and Point of Success Premium software
Vantiv's fees can be very competitive, in many cases offering merchants substantial savings over their current processor
Vantiv offers rapid merchant approval and easy setup
Easier end-to-end technical support services are offered from both the Point of Success and Vantiv Integrated Payments technical support groups
Next-day and even same-day funding are available
Gift card processing is available when you use Vantiv Integrated Payments for your credit card processing
Gift Card Processing with Vantiv Integrated Payments
When you sell gift cards through Point of Success you can issue those cards with any amount you choose, check the balance on the card, and sell items from your menu using a gift card to pay for the order.
Gift card processing is very secure. Cards can only be activated or reloaded after payment has been received for the card. Cards have no value until they are activated through Point of Success.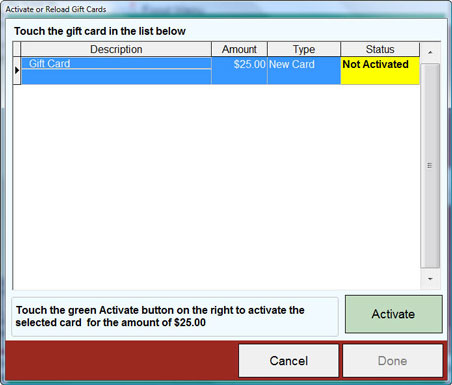 Complete business reporting trough Point of Success and Vantiv Integrated Payments tells you the cards you sold, the amount of redemptions used to pay for customer orders, and the amounts outstanding on your cards.
Vantiv StoreCard
This is the product you'll use in your gift card program. Here are some of the great features included in StoreCard:
Automatic cash back rewards can be offered to customers for StoreCard purchases
Customers can use a StoreCard as a digital gift card – Use a smart phone to pay for purchases!
Customers can auto reload a StoreCard or manually reload a card on the Internet
StoreCard costs just $29.99 per month through Vantiv.
EMV/Chip Card Processing
Vantiv Integrated Payments supports EMV processing using Point of Success version 3.7 or above with a VX 805.
Additional Supported Credit Card Processors
Use the Processor of Your Choice
NETePay software from Datacap Systems, Inc. offers a long list of additional credit card processors for Point of Success. Keep in mind that if your processing company is not listed below that your merchant services company may be working with one of these companies that serve as their back-end processor.

These processors support restaurant transactions through Point of Success version 3.5 and above:
Concord
FDMS (First Data) Buypass
FDMS (First Data) North Cardnet
FDMS (First Data) Nashville
Vantiv (Fifth Third)
Heartland
RBS WorldPay (Lynk)
Global Payment Systems  – Terminal
Global Payment Systems – Host
Elavon (Nova) – Terminal
Paymentech – Host
Paymentech – Terminal
Sterling STS – FAPD
TSYS (Vital)
Gift card processing in Point of Success is not available when using these processors.
Purchase these items for use with Point of Success version 3.5 or above to process credit cards with these companies:
NETePay license for the first lane (a "lane" is one computer that processes credit cards, with or without one of the approved devices below)
NETePay additional lane (total lanes purchased, including the first lane, must be equal to the total number of Point of Success Order Entry computers processing credit cards)
Point of Success NETePay Connector
Supported Credit Card Devices
For improved security, credit card processing in Point of Success version 3.5 and above requires the use of encrypted credit card devices. This hardware is fully supported by Point of Success and offers a variety of functionality.
ID TECH SecureMag MSR
This encrypted magnetic stripe reader offers basic magnetic stripe operation. Securely reads credit cards and can also be used with Point of Success employee cards and Vantiv Integrated Payments gift cards. Available only with USB interface.
Verifone VX 805
This multifunction device supports traditional credit card processing features and adds new technologies:
Includes a traditional magnetic stripe credit card reader
Supports NFC (near field communication) credit card transactions with Apple Pay, Android Wallet and similar mobile payment technologies
Includes a card reader slot for EMV processing with new chip-embedded credit cards.
Available with serial or USB interface.
Notice on Windows XP: Point of Success Technical Suport will not install credit card processing software or hardware on computers running Windows XP. Credit card processing is not supported on Windows XP.