Restaurant and Bar Software for POS Systems
Simple. Efficient. Affordable!

It Starts with a Low Price!
Point of Success is known for its low price and ample feature list. Not only is the software inexpensive, but other aspects of doing business with us are also very attractive:
Work with a local independent dealer or directly with Point of Success
Select your own hardware — From inexpensive computers and accessories to the latest and greatest all-in-one touch screen terminals
There is no requirement to buy support or maintenance plans — Choose the level of service that fits your needs
Maintenance updates are provided at no charge for all customers, with major feature upgrades priced very affordably
Technology to help your business grow and prosper has never been easier or more affordable!
Software to Run Your POS System
Point of Success software can help any restaurant or bar run more efficiently. No matter whether you run a coffee shop, table service restaurant, doughnut shop, deli, pizzeria, or any other type of restaurant or bar, Point of Success will make your operation more efficient while saving money!
Customize ordering menus to fit your way of doing business
Process orders quickly
Speed customers through order entry and payment tender
Control cash in cash drawers and delivery driver banks
Report on every aspect of your business
What Type of Restaurants Can Use Point of Success Software?
Point of Success was designed with features that work well for any type of restaurant from quick service to fast casual, pizza delivery to fine dining and bars. Point of Success is easily customized to meet your specific needs.
---
Here are some of the features that make Point of Success the restaurant software system of choice
Selected restaurant POS features are listed below. For a complete feature list and detailed explanations of all included and available features go to the features menu above.
Enhance Efficiency
Point of Success offers all the efficiency-enhancing features you expect from good restaurant software. Customers and staff are happier because orders are prepared as quickly as possible.
Enter and Track Orders
The most important feature of any restaurant pos software is order entry and tracking! Point of Success makes it easy to customize its order entry menu specifically for your needs.
Point of Success tracks customers, previous order history, and stores a restaurant's entire product list and ordering menu. Order entry is fast and easy with touch screen support, or you can use a keyboard and mouse if you prefer. No restaurant pos software system is easier to use!
Order by Table Position or Guest Number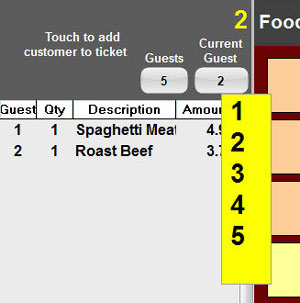 Each item on an order is tagged with a guest's seating position at the table. Service can be improved by delivering a guest's order directly to their seat at the table. Also used to separate multiple guest take-out and delivery orders!
Split a Single Order Item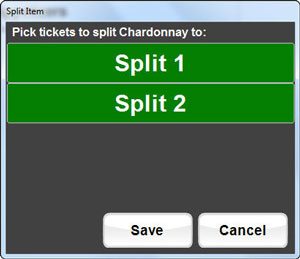 Split a shared entree or a bottle of wine between two or more guests.
Fresh List 
Menu items with a limited quantity are displayed in the Fresh List on the main order menu and each item is also tagged on its menu button. Enter the total number of each item available and the quantity counts down as items are ordered.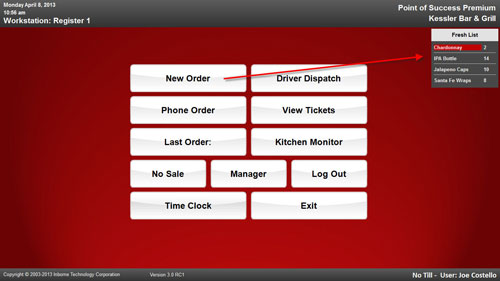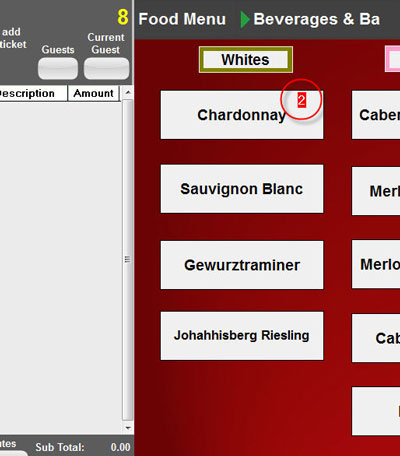 Each item on the Fresh List can be assigned an Alert quantity. When the quantity falls below the Alert quantity the item is highlighted in the main menu list and on the item button. Does not require Point of Success Inventory.
Coursing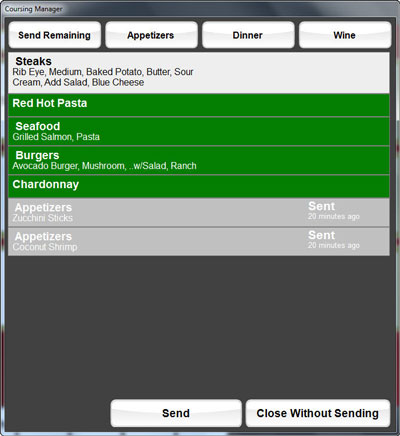 Order items can be selectively sent (fired) to the kitchen. Select individual items or quick select all items in a category with the touch of one button.
Repeat Round 
Select which products will appear in the Repeat Round window by choosing product categories. On the View Tickets screen, touch the Repeat Round button, touch the items to repeat, then touch Done for fast and easy beverage reordering!
Timed Happy Hour Pricing with Days and Times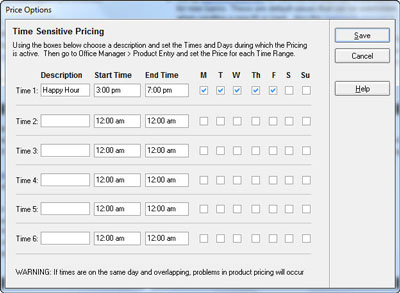 Select exactly which days and times happy hour pricing will be in effect.
Tax Inclusive Pricing 
Bars love this feature! Set the target price for a menu item – Point of Success back calculates the tax then adjusts the item price to hit the exact total price with tax included.
Large Order Total Display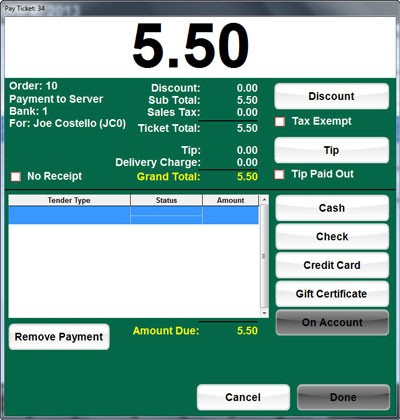 Monitor order totals from across the bar with the large order total display. Even non-bar operations can see this optional large print total easier.
Tableside Handheld Device Ordering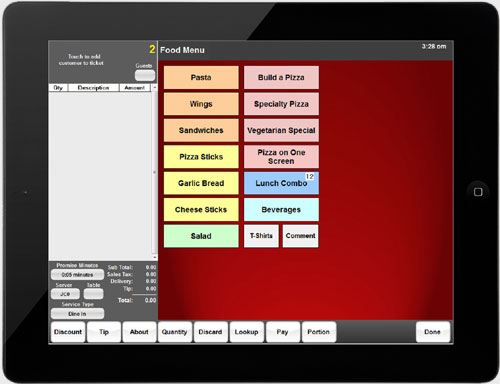 Point of Success Version 4 fully supports tableside order entry with a mobile device! Use virtually any brand of tablet from any manufacturer for order entry by your dining room employees. This feature is designed to work securely and reliably on your wireless network.  See the System Requirements page for details on the technology requirements.
Business Reporting
Standard business reports help owners and managers understand the financial performance of a restaurant. Accounting and tax reporting information is retrieved from the manager's workstation with a few simple commands.
---
More Restaurant POS Information
Custom design your ordering menu, ticket-splitting and kitchen monitor – Restaurant Software Features
Real-time manager information, reporting, tailoring your system – Restaurant POS Details
Time-saving features, business reporting, customizing the ordering menu, table map – Restaurant Point of Sale Details