New Features in Point of Success Version 3
Click to See Pricing for the Point of Success Version 3 Upgrade
Point of Success Version 3 is the biggest feature release since 2005! This software is packed with features requested by all types of restaurants and bars. With more than 80 new features and improvements, Point of Success Version 3 is an incredible value!
Many of these new features are designed to dramatically improve support for these types of establishments:
Table service restaurants
Fine dining restaurants
Bars
Pizzerias
No matter what your business Point of Success Version 3 will make a big difference for you, your employees and your customers.
Features denoted

are only available in Point of Success Premium.
Digital Scale Integration for Weighed Items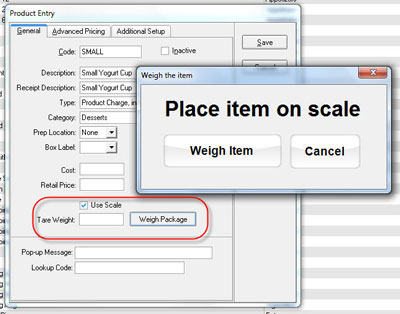 Connect a supported electronic scale to a Point of Success workstation to weigh menu items for checkout. Supports package weighing in product setup for entry of tare weight.
End of Day Report

This ticket prints automatically when the day is closed. Includes sales by product category (department), discounts, tips, delivery charges, unpaid orders, total sales, payments received by tender type, cash paid out, tips paid out, and till over/short.
Kitchen Communication
Prep ticket notifications are printed in the kitchen when items are changed or removed from an order and when an order is deleted.
Customer Birthday Club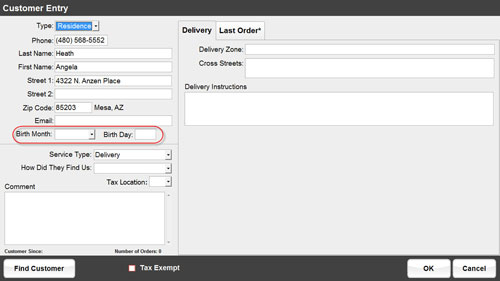 Store the birth month and day on a customer account for birthday marketing offers.
Order by Table Position or Guest Number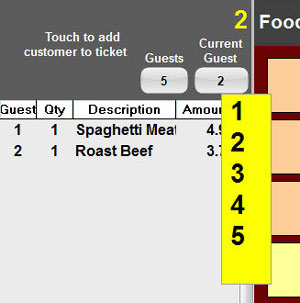 Each item on an order is tagged with a guest's seating position at the table. Service can be improved by delivering a guest's order directly to their seat at the table. Also used to separate multiple guest take-out and delivery orders!
Customer Receipt Subtotaled by Guest 
When using the table position ordering feature, select this receipt template to subtotal each guest's order on one receipt. May eliminate the need to split a ticket – Great for carry out and delivery orders.
Split a Single Order Item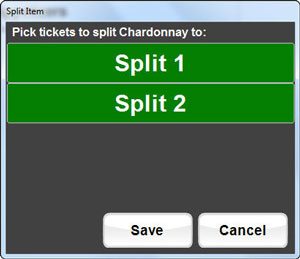 Now you can split a shared entree or a bottle of wine between two or more guests!
Fresh List 
Menu items with a limited quantity are displayed in the Fresh List on the main order menu and each item is also tagged on its menu button. Enter the total number of each item available and the quantity counts down as items are ordered.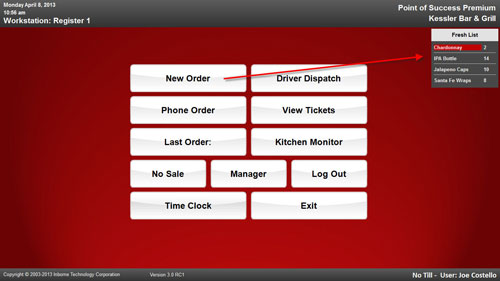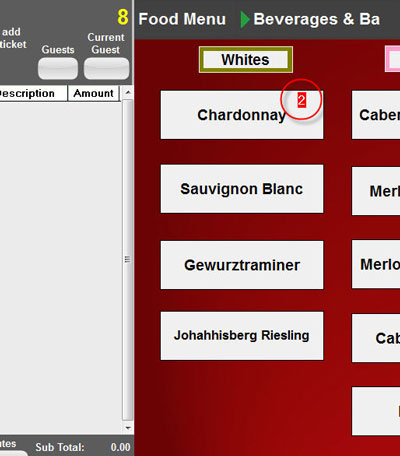 Each item on the Fresh List can be assigned an Alert quantity. When the quantity falls below the Alert quantity the item is highlighted in the main menu list and on the item button. Does not require Point of Success Inventory.
Coursing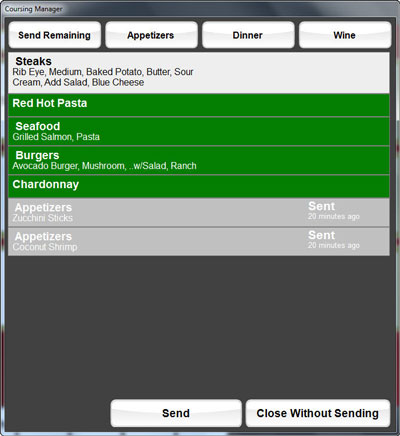 Order items can be selectively sent (fired) to the kitchen. Select individual items or quick select all items in a category with the touch of one button.
Repeat Round 
Select which products will appear in the Repeat Round window by choosing product categories. On the View Tickets screen, touch the Repeat Round button, touch the items to repeat, then touch Done for fast and easy beverage reordering!
Timed Happy Hour Pricing with Days and Times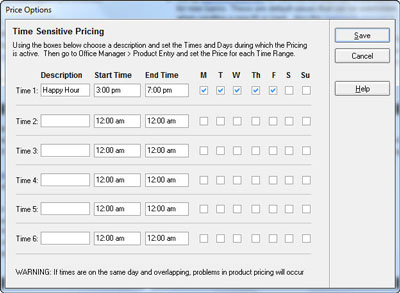 Select exactly which days and times happy hour pricing will be in effect.
Tax Inclusive Pricing 
Bars love this feature! Set the target price for a menu item – Point of Success back calculates the tax then adjusts the item price to hit the exact total price with tax included.
Large Order Total Display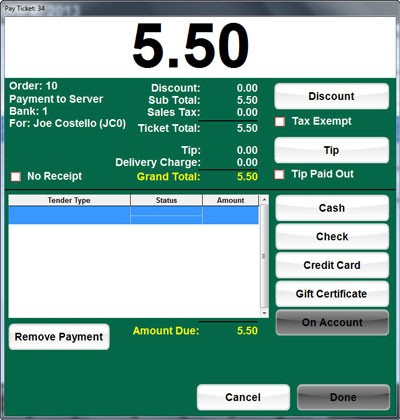 Monitor order totals from across the bar with the large order total display. Even non-bar operations can see this optional large print total easier.
Print Bar Tab Automatically on Done 
This feature is controlled on each workstation. After an order is entered or updated a guest's tab can print automatically.
Change Rounding on Payment
One cent coins are no longer being minted in Canada. This feature rounds the total of orders paid in cash to the closest .05 amount. Orders paid by another payment type will still total to the penny.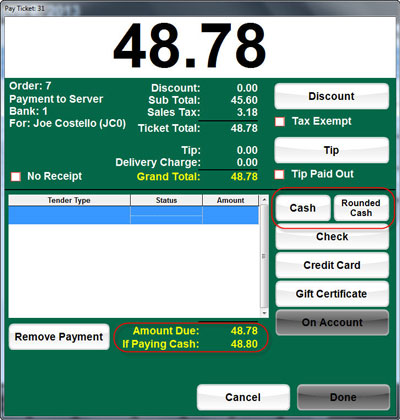 Automatically Make a Table Available
Tables in the Table Map can be automatically made available when all the orders on a table are paid. Requires the Table and Guest management module.
Cash Tip Tracking in Time Clock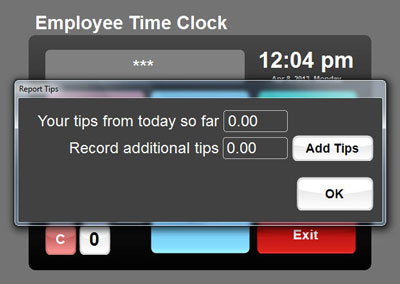 Optionally ask employees to enter cash tips when they clock out.
Multiple Staff Positions and Pay Rates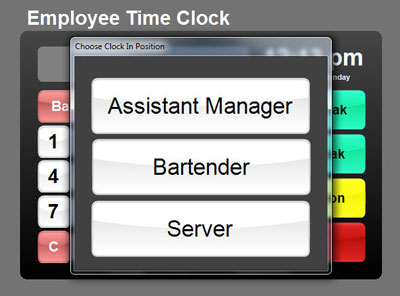 If an employee is set up to work in several positions, the Employee Timekeeping module can ask which position they are working when the employee clocks in.
House Accounts (Customer Billing) 
Selected customer accounts can be set up to allow for billing orders later
Charge orders to a customer account when an order is closed
Security settings can limit this function to managers or trusted employees
Set a credit limit for each account
Invoice accounts for their purchases (Account Statement report)
Specialized payment window in Order Entry program for payments on account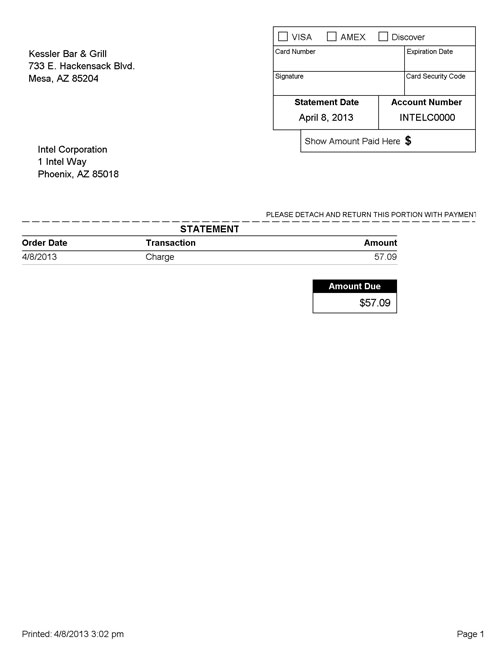 Kitchen Monitor Improvements 
These great new features have been added to the Kitchen Monitor:
Bump individual items from an order
Adjustable font size to make the display readable from across the room
Sort orders by time sent or time promised
Orders can be prioritized by service type
Fully compatible with the new coursing feature
Tableside Handheld Device Ordering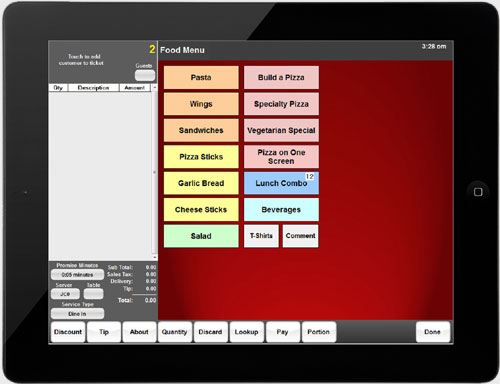 Point of Success Version 3 fully supports tableside order entry with a mobile device! Use virtually any brand of tablet from any manufacturer for order entry by your dining room employees. This feature is designed to work securely and reliably on your wireless network.  See the System Requirements page for details on the technology requirements.
User Customizable System Menu Buttons 

Remove buttons or change the captions on the system buttons found at the bottom of the order entry screen. Don't offer discounts? Remove the button. Would you rather have the Done button say Send to Kitchen? Change the caption. You control it all.
Fractional Quantities
Quantities now accept decimal points to make it easier to sell weighed items without using a computer-connected electronic scale.
Fully Compatible with Windows 8
Point of Success Version 3 is fully supported on this new operating system. Windows 8 is now standard on all new computers sold at retail.
Fingerprint Login Support for 64 Bit Operating Systems
Point of Success fingerprint login can be used on 64 bit versions of Windows 7 and Windows 8.
More Than 80 New Features and Improvements In All!
This new version has been in development and testing for over a year and a half. Get the POS system you've wanted for an affordable price!