Be a Better Manager with Restaurant POS
Every restaurant owner or manager knows that a point of sale system will help them serve customers. What many discover is the degree of control the point of sale system gives them in their restaurant!
Restaurant POS – Manager Information and Control
Point of Success restaurant POS helps managers closely monitor operations, giving an information edge for making quick decisions:
Monitoring real-time financial information can ensure that revenue and expenses are on target
Day-by-day financial summary reports provide an easy to read picture of daily results
System customization options let a manager protect sensitive information and simplify access to needed features
Real-Time Business Information from Your Restaurant POS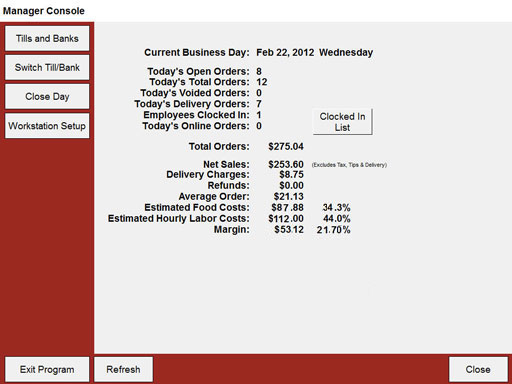 One of the most popular features in Point of Success is this real-time display of vital financial information. With the Manager Console's dollar and percentage calculations you can control staffing and labor costs to meet customer service and financial goals. Food costs can be entered for each product on the menu or imported as frequently as needed from the Inventory module.
Access to the system's Manager Console is protected so this sensitive information is not available to everyone.
The Point of Success Flash Report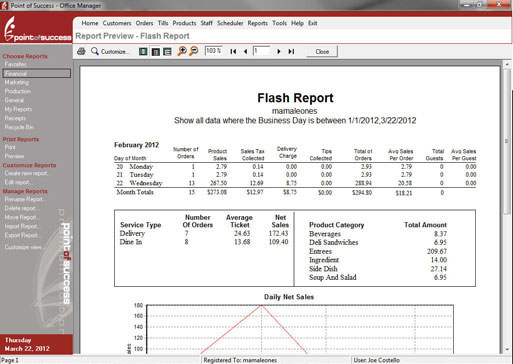 This report presents key financial information summarized for each day of the period. Each day's activity is summarized for each type of revenue, including sales by service type and a revenue graph.
Restaurant POS Lets You See The Big Picture and the Details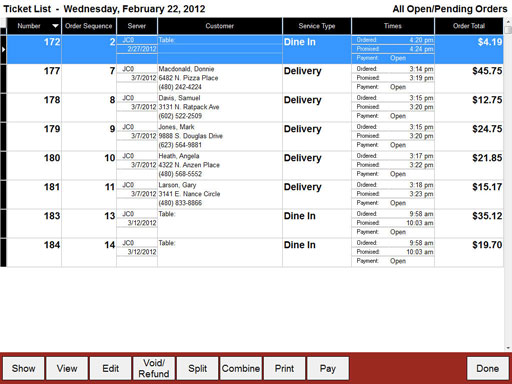 See and access every order in the system. The Ticket List displays key order details and permits the list to be sorted for server, service type, customer name and more. View, edit and pay orders, and see and review closed tickets.
Whether you're a manager who needs information about a service complaint or a server waiting tables, the ticket list give you what you need.
Customize Your Restaurant POS Menu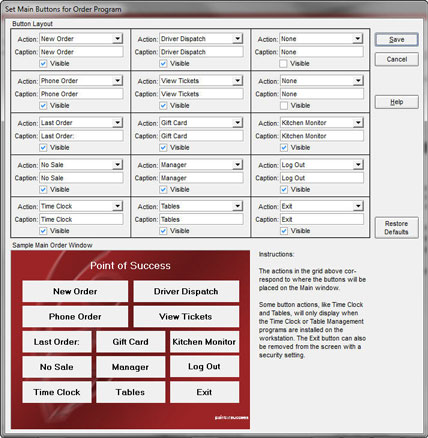 Control the main menu functions, placement, size and name. Point of Success offers tons of customization features to make your system work like your business works!
---
Restaurants and bars of all types use Point of Success restaurant POS. It can help improve operations, lower costs and improve customer service. Improve your business with Point of Success!
Restaurant POS Made Affordable by Point of Success
Download the free demo and see Point of Success work on your own computer – Restaurant POS Demo Download
---

Indicates features available only in Point of Success Premium.